Family Kitchen - Sushi
£62.50 per person
A cookery class to enjoy as a family.
Our unique cookery class isn't just about learning to roll sushi – it's about creating cherished memories and fostering teamwork in the kitchen. With our expert chefs guiding you every step of the way, you'll discover the joy of working together to craft delectable sushi masterpieces.
From the youngest to the oldest family members, our class is tailored to engage everyone. Our class is specifically designed to cater to families, ensuring that every member finds joy in the cooking process.
If you would prefer to book over the phone or are using a voucher as payment/part-payment please contact reservations on 01425 282212 or email your details to cook@chewtonglen.com. Unfortunately, vouchers can only be redeemed via the phone or email, not through the booking system.
Please note that this class is for those aged 6+
Dec 30 2023 Places available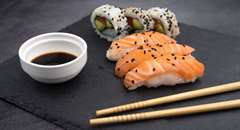 Course Overview
Please arrive 15 minutes before the class begins for refreshments and registration to ensure the class begins on time.

Cookery classes include a mixture of hands-on cooking and demonstrations to help you get the most out of your time with us.
Take home your new found knowledge, Recipe Pack and Kitchen Apron as a souvenir of your time with us at The Kitchen Cookery School!
Course Dishes
Thin Inside Sushi Roll - "Hosomaki"

Outside Sushi Roll - "Uramaki"

Hand Pressed Sushi - "Nigirizushi or Nigiri"

Sauce - Ponzu Dipping Sauce
Things to know
We are often making improvements to recipes and adapting the dishes taught on our classes to enhance your experience. Dishes on this class may be subject to change.

Children from the age of 6 can attend this class.
We will supply containers for you to transport your delicious creations home in, however in the interest of sustainability we encourage you to bring your own containers from home.